30 Years of Quality & Excellence
---
One location for custom cabinetry, appliances, tile, plumbing fixtures, lighting and hardware.
Contact Us Today!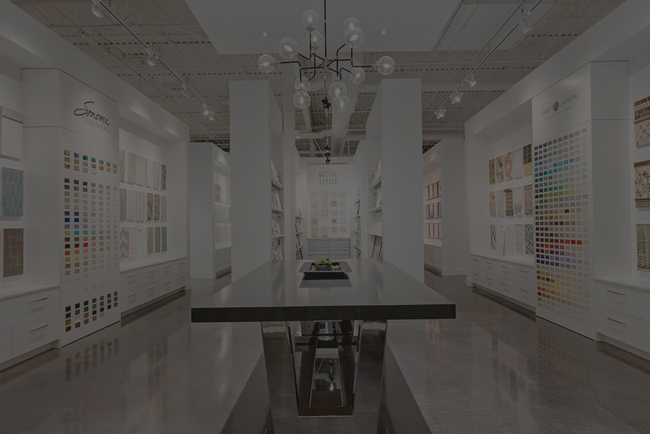 30 Years of Quality & Excellence
One location for custom cabinetry, appliances, tile, plumbing fixtures, lighting and hardware.
Contact Us Today!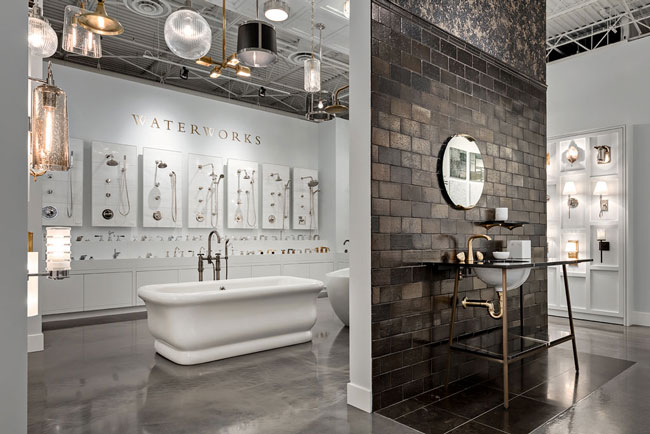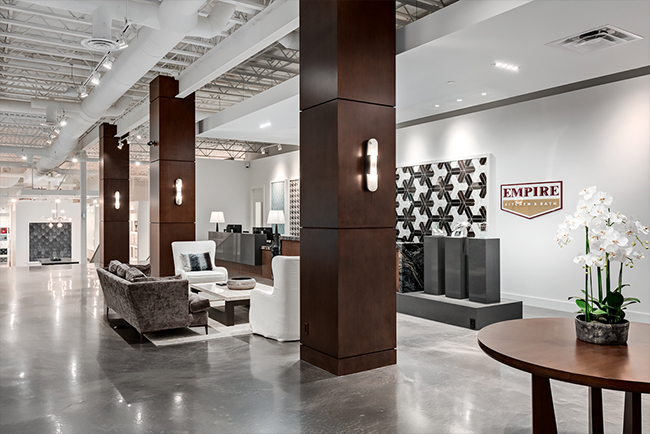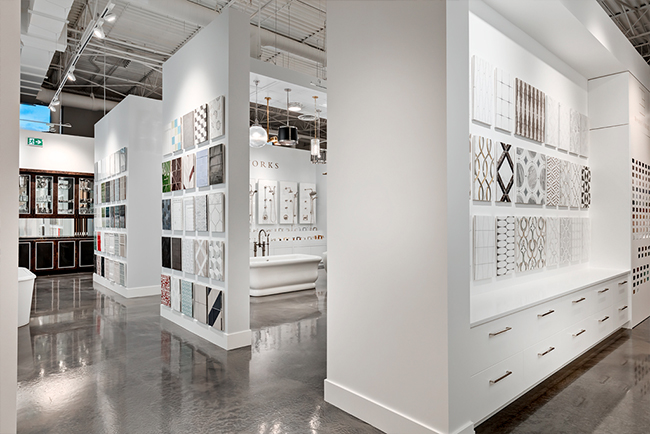 Your Design Destination In Calgary
One location for custom cabinetry, appliances, tile, plumbing fixtures, lighting and hardware.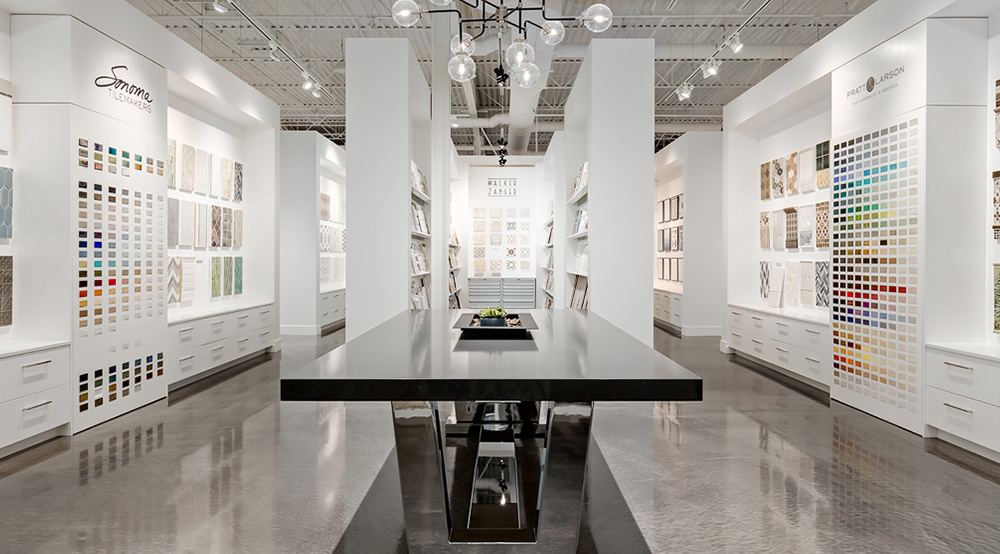 Everything In One Place.
Step into our showroom and discover what your home can be. You'll find custom cabinetry, tile, appliances, plumbing, lighting, and hardware in one convenient location. From Downsview cabinetry to custom tile and more, our 18,000 sq ft. showroom is sure to spark your imagination. See and feel every detail of your project as it takes shape, with expansive selections you won't find anywhere else. Whether you're a homeowner looking for a custom kitchen design in Calgary, a designer working on a bathroom remodel that needs that special touch, or a builder looking for project selections—come explore everything in one place.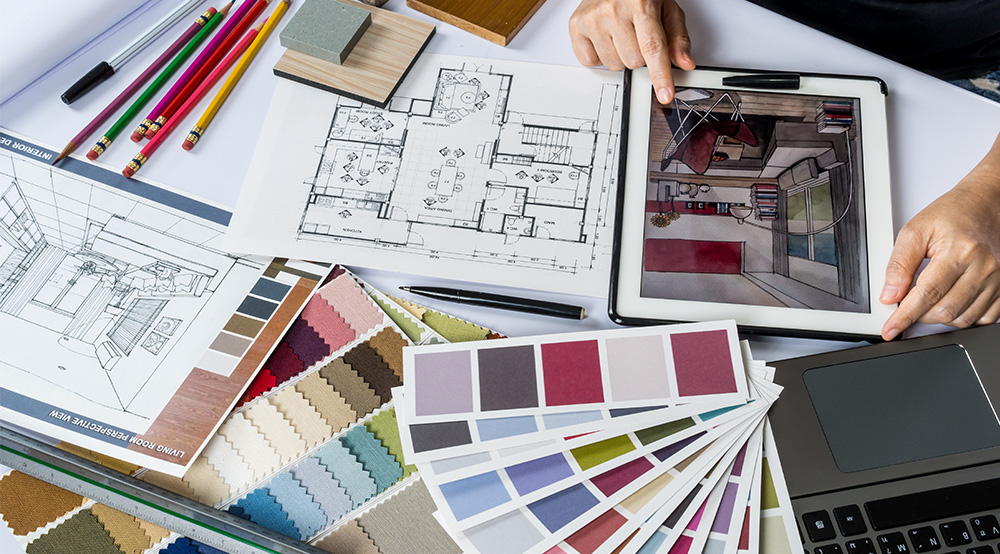 Tailored To You.
Explore our showroom on your own, or let our designers guide you along the way—we're happy to work directly with you or your design team to make your home renovation in Calgary and beyond the best it can be. Our in-house design staff have experience with our wide selection of products, with the expertise to integrate them together to create a beautiful and functional design. Not only that, but we also offer photo-realistic 3D rendering services to give you a realistic visual of your dream kitchen or bath before any construction begins. Whether you picture yourself cooking in the custom kitchen design you've always wanted, or sinking into relaxation with a spa-inspired bathroom remodel—trust us to bring your vision to life!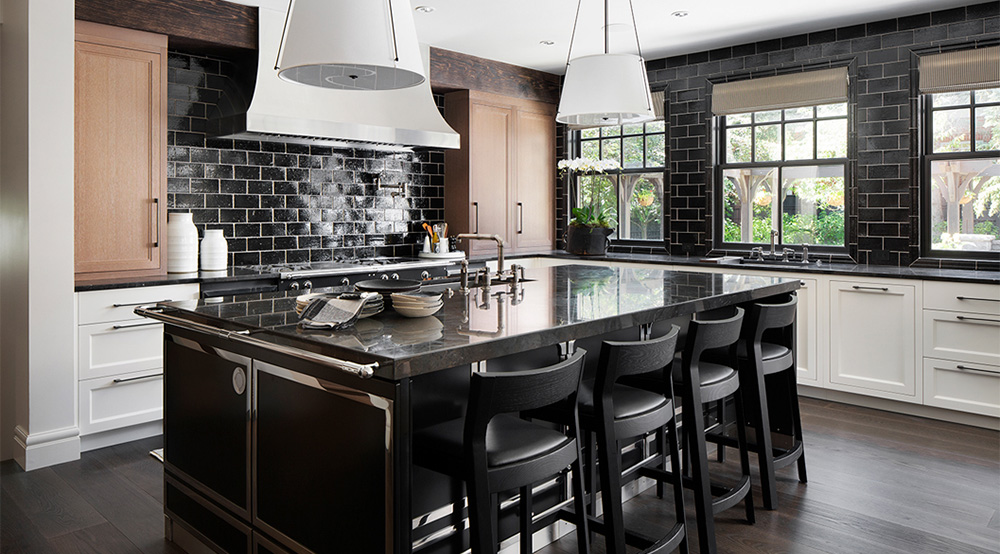 Built To Last A Lifetime.
For over 30 years, homeowners looking to build or renovate have come to Empire Kitchen & Bath to find the best selection of quality products for their projects. You'll find renowned brands like Downsview Kitchens, La Cornue, Artistic Tile, Ann Sacks, New Ravenna, Perrin & Rowe—and so much more! Quality, craftsmanship, and attention to detail are the pillars of what we do. Whether it's bathroom renovations, custom kitchen cabinets, or even a kitchen remodel in Calgary—you can feel good working with Empire. We've built our reputation on providing outstanding customer service both in the showroom and on-site, to ensure your finished home renovation in Calgary is even more amazing than you imagined.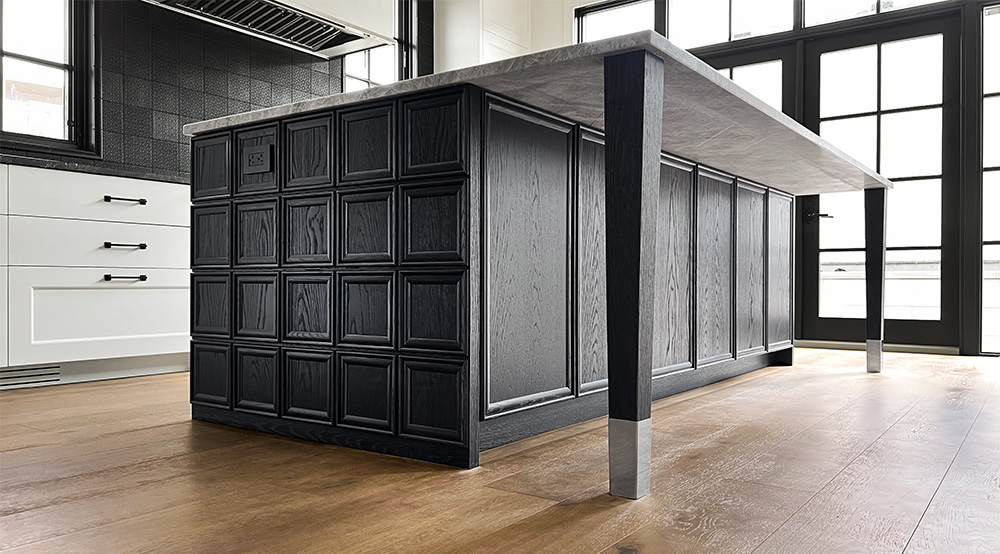 Locally Built Custom Cabinetry.
The Empire workshop was founded on creating handmade custom kitchen cabinets in Calgary, and through decades of experience, we've expanded our expertise to include one-of-a-kind furniture, custom dining tables, and even banquette island benches. We have endless possibilities for custom cabinetry anywhere in your home, from mudrooms, custom closets, and wet bars—to entertainment units, home offices, and so much more. If you have an idea for a custom touch you'd like to add to your home, come talk to us today!
Our Team
Kevin Mullen
Founder & President
Learn More
Tracie Janke
General Manager
Learn More
Wayne Reynolds
Production & Installation Manager
Learn More
Mark Cayen, D.I.D.
Senior Design Consultant
Learn More
Kari Mizen, B.A.I.D.
Design Consultant
Learn More
Kristen Hodge, D.I.A.D
Design Consultant
Learn More
Meredith Shilton, B.F.A., M.I.D.
Designer / Showroom Sales Associate
Learn More
X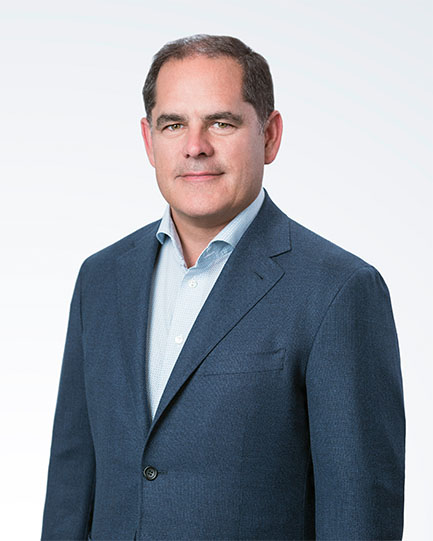 Kevin Mullen
Founder & President
---
Kevin Mullen founded Empire in 1990 with a unique vision to combine superior design expertise with a retail storefront offering a diverse selection of luxury home products. Kevin's leadership and entrepreneurial drive has led Empire to continually evolve and remain at the leading edge of design and product specification. Today, Empire operates out of a 38,000sf facility that boasts 18,000sf of showroom and an 11,000sf millwork shop.
Under Kevin's precise guidance and mentorship, Empire has completed over 2300 cabinet installations and hundreds of renovation projects. Kevin's vast experience and success in the luxury home renovation market also led him to expand into other ventures, including Empire Custom Homes, now recognized as one of the premier builders of luxury homes in Alberta.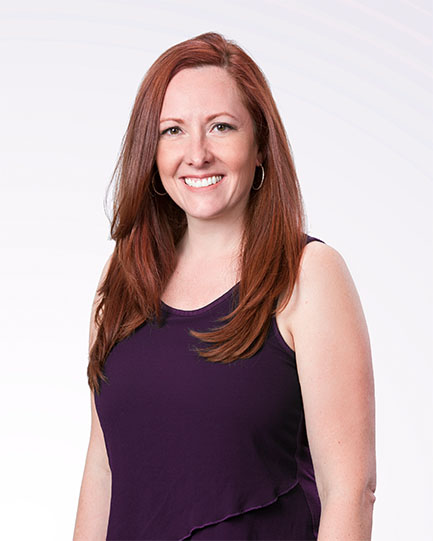 Tracie Janke
General Manager
---
Tracie joined the Empire team in 2010, with extensive operational experience working in the design, building and land development business sectors. Tracie is tasked with coordinating the Empire team to ensure that projects are completed on time, on budget and to our client's expectations.  Tracie oversees the costing and budget preparation for each project that Empire takes on. Tracie is also tasked with liaising with Empire's clients including the effective communication of project milestones and issues resolution. She is well versed in the utilization of numerous enterprise software programs and is responsible for ensuring their effectiveness in managing the daily operations of Empire. Tracie has earned a Bachelor's of Management Degree (Major in Finance) from the University of Lethbridge, along with a Business Admin Diploma (Major in Accounting) from SAIT.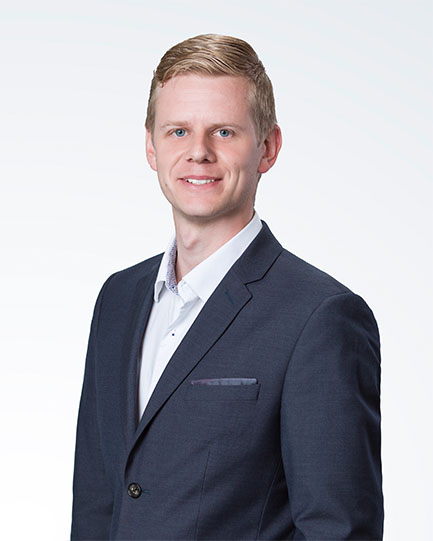 Wayne Reynolds
Production & Installation Manager
---
Wayne joined the Empire team in 2006 and has over fifteen years of installation experience for both cabinetry and appliances. He has travelled all over western Canada installing at the highest standards needed to ensuring every client's dream becomes a reality. Wayne has been recognized by Subzero, Wolf and Cove as a factory certified installer to ensure our clients are getting the best experience and warranty possible.
Since becoming the installation manager at Empire, Wayne uses his experience and knowledge of custom cabinetry to work closely with the design team, production manager, builders, clients, and our professional installation team. Wayne's involvement in every cabinetry project, from site measuring to final walkthrough, ensures the Empire quality standard is achieved.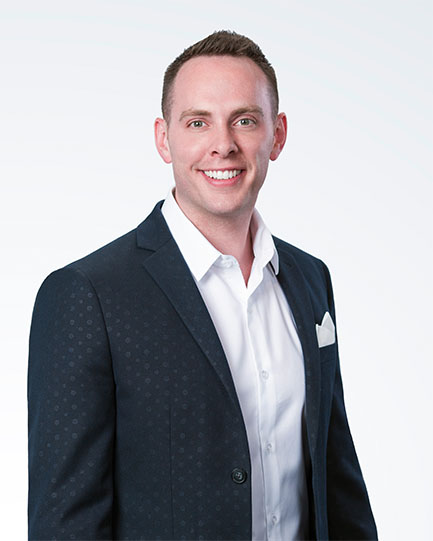 Mark Cayen, D.I.D.
Senior Design Consultant
---
Since joining the Empire team in 2008, Mark has proven to be an essential member of the Empire design team. With experience designing cabinetry in some of the most exclusive homes in Calgary, Mark has demonstrated his ability to marry incredible design with client styles, while also providing functionality to each space.  His attention to every detail within a home leaves Empire clients with incredible spaces to live and entertain in. Mark is able to design custom cabinetry for any room in your home, and is also able to coordinate design ideas including tile, plumbing and lighting to ensure a cohesive and well thought out design. Mark has completed his Interior Design Technology Diploma with practicum from Lakeland College.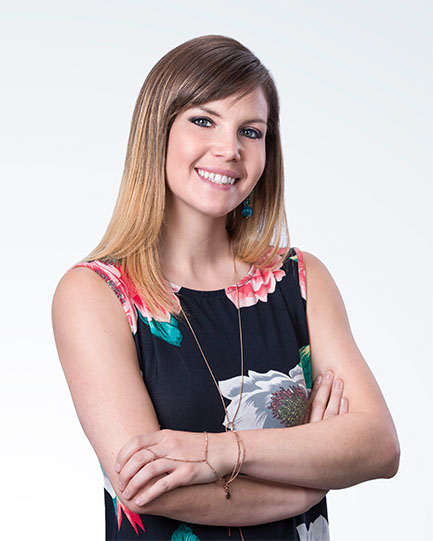 Kari Mizen, B.A.I.D.
Design Consultant
---
Since 2012, Kari's keen attention to detail and her technical drafting skills make her an essential part of the Empire team.  She has a Bachelor's of Applied Interior Design (BAID) from Mount Royal University, and has worked in the design industry for over 10 years. Her intricate knowledge of cabinetry, tile, and plumbing give Kari the ability to perfectly pair her clients with the right product.  Her personal passion for architecture and design always shines through.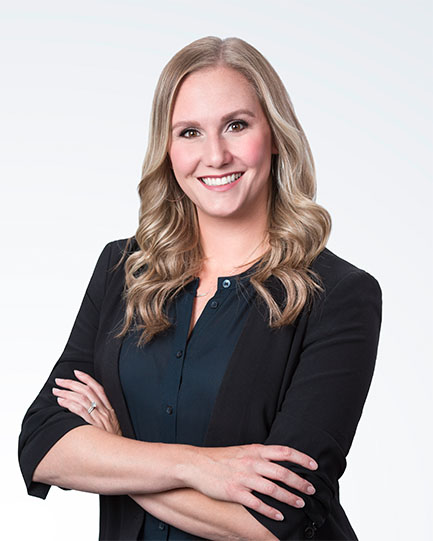 Kristen Hodge, D.I.A.D
Design Consultant
---
Since joining the Empire team in 2014, Kristen has proven her personal passion for design and has quickly embraced the versatility and customization of Empire's products.  As a detail oriented designer, Kristen's strength in technical cabinetry design adds a new level of detail to every project.  She is never afraid to go the extra mile to help find exactly what her clients are looking for, whether it be tile, plumbing, lighting, etc. Kristen graduated from the Pacific Design Academy in Victoria, BC with a Diploma in Interior Architectural Design.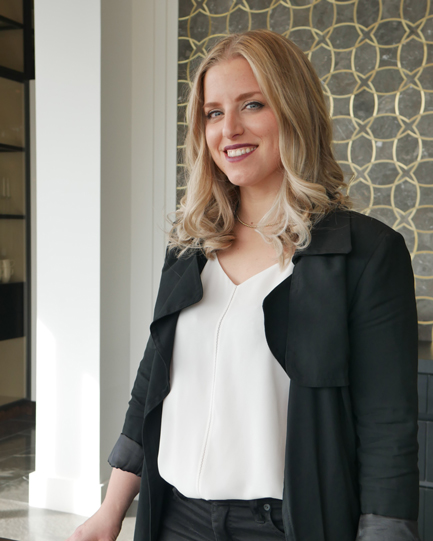 Meredith Shilton, B.F.A., M.I.D.
Designer / Showroom Sales Associate
---
Meredith is the newest member of the Empire Kitchen and Bath team, joining in April of 2021. Her years of experience working in the luxury home-furnishing sector provides clients with creative solutions for their homes and consideration for their experience throughout every aspect of the design process. While putting function at the forefront of her designs, her deep understanding of materiality elevates each project to its fullest potential. She enjoys showing clients what they didn't even know was possible. Meredith's approach was honed through the completion of her Master of Interior Design degree through the University of Manitoba and Bachelor of Fine Arts from York University with a specialty in painting, drawing and sculpture.